Best Premium Sites To Get Images For WordPress
Introduction
Did you know posts with images produce 650% higher engagement compared to text-only posts? Fascinating, right? Today, digital marketers understand the value of images and their positive impact on the conversion rate. It's evident that textual content alone won't make a considerable difference unless accompanied by some form of visual media. Plus, the human brain is hardwired in a way that it processes images 60,000 times faster than text. As the adage goes, "A picture is worth a thousand words."
However, finding the right images for your WordPress page or site can be a little challenging, especially if you don't know where to look. Luckily, there are a plethora of stock photography sites, both paid and free, that you can use to add some glamor to your website.
Not only can the right picture on a page increase engagement chances, but it can also uplift otherwise bland content. Moreover, with the right selection of pictures, you will be able to better convey your message and spark emotions to raise your marketing game to a whole new level.
So in this guide, we've listed a few of the top-notch stock image sites where you can get the perfect visuals for your website.
Paid vs. Free Stock Photo Sites
Stock photo sites are the websites you can visit to check out the best possible images related to your topic and download them for personal or commercial usage. Usually, there are two types of stock photo websites you can check out: paid and free.
Although paid sites give you access to exclusive and rich content that only a handful of people have, sometimes companies and individuals don't have adequate budgets to splash on paid images. Fortunately, there are some exceptional free stock photo websites where you can find plenty of visually-appealing photographs for nearly every topic imaginable.
What's good is that both free and paid websites contain pictures that are relevant according to the latest design trends. So you'll have no trouble finding the right stock photo to raise engagement and organic traffic on your website.
Advantages of Premium Image Sources for WordPress Websites
When it comes to finding the images for your WordPress website, there are both paid and free options. Now, free photos mean cost savings in the web development budget. But there are some other benefits as well.
Superior quality: There are several reputable websites (like the ones listed below) available on the internet that provide pristine quality stock photographs (both free and paid) for WordPress websites. These photos will help take the quality of your website to a whole new level.
Customization: Compared to the paid premium images, the free pictures are much easier to customize with the help of WordPress picture editing tools based on your requirements for the website.
Better SEO: With proper image alt tags and captions, even the free photos can help your WordPress website reach better rankings on the SERPs.
More options: There are millions of free images on stock photo websites. So you will be able to find a high-quality stock image for your WordPress page or site for any purpose imaginable.
Ethical and Legal issues: Free images don't need to be given credit. So there are no legal or ethical issues with downloading the images and adding them to the WordPress website.
So if you want stock photographs for your WordPress website, going for the free options will only be beneficial. And, of course, it'll save you a lot of money, which is a bonus. Lucky for you, there are several websites offering free stock photos with excellent quality.
10 Popular Sites to Get Images for WordPress
WordPress boasts a media library through which you can pick and choose the best images that will help enhance the richness of your website. But if you want more high-quality pictures on various topics, you'll need to visit some stock photo websites.
So here are a few of the best websites where you can find rich stock photos for your web pages and sites,
With over 8 million high-resolution images, stockphotos.com has a perfect blend of artistic and creative pictures from almost every niche. Its advanced search engine is user-friendly, which ensures you find the required photos more effortlessly.
Why choose Stockphotos?
Flexible subscription plans.
Integrated AI image upscaled to enhance the quality of the picture.
Amazing discounts and coupons for purchasing from iStock and Shutterstock.
Its blog page is insightful and updates its users with many tips and tricks on how to best use stock photos.
What's more impressive is that you get access to premium pictures at affordable prices and even tweak them with the popular image editing tool Canva Pro. New pictures are added weekly, so you'll have a massive range of content to choose from.
Launched in 2013 by a Canadian startup named Crew, Unsplash is a massive stock image resource with over four million breathtaking photos. That, too, is at the cost of nothing. Every ten days, the site is updated with new, hand-picked ten photos that you can feature in your latest blog or site. Moreover, there is no hassle of licensing or copyright issues since the pictures are added by some very generous photographers who let customers use their work for free.
The simple and user-friendly interface lets the designers and marketers find and choose the picture more easily. You can type your keyword in the search engine and filter the results according to available options. There is a section at the right sidebar that shows the popular topics and trends with categories like travel, experimental, 3D renders, and more listed below them.
Why choose Unsplash?
It has a refined search engine that is easy to navigate.
The Unsplash community follows a strict vetting process to carefully review photos before adding them to the platform.
It showcases a wide variety of images, covering almost every category.
There is an impressive 'collection' feature that assorts images according to the themes.
Its trend section provides valuable insights that you can leverage to raise your website game.
Getty Images acquired Unsplash in 2021 and introduced Unsplash+ in 2022. This paid subscription program provides premium images to its members with a host of features with an excellent user experience.
Stock Photo Secrets Shop is your go-to website for all photograph needs. What sets it apart from the rest is its exclusive collection of high-resolution photos uploaded after strict quality checks. That ensures the website's credibility and authenticity.
Although its robust search engine makes it easier to find pictures, if you are still struggling with the dynamics of the search feature, you can check out the comprehensive search tips guide.
Why Choose a Stock Photo Secrets Shop?
A vast collection of over 8 million modern and unique photos.
It has a safe search feature that ensures security.
With tools like image upscale and EPS converter, you can maximize the benefits of your chosen images.
It also offers impressive affordable subscription plans, from which you can access a world of fantastic images without breaking the bank.
Started in 2014, Pexels is a popular, comprehensive library of high-quality stock photos. The images are completely free to use, meaning you can edit, modify, copy, and distribute them, all without giving any credits. It has a user-friendly layout, and every image is nicely tagged, which makes it easier for you to find the perfect picture for your web page in no time.
Why choose Pexels?
Aesthetic and appealing interface.
Updates the media with over 3000 new photos every month.
The diverse collection is searchable in 28 languages.
A variety of plugins are available that make adding photos much easier.
Its blog section features famous artists sharing tips and tricks to improve image quality for better use.
While downloading, you can choose or customize the photo sizes for suitable usage and have it as media on your page or site in seconds.
Its 'explore' category has a discover section, which puts the limelight on its innovative assortment based on popular topics, colors, moods, and so much more.
Established in 2003, Shutterstock is one of the OG stock photography sites with over 300 million high-quality images. This website is literally heaven for content creators, bloggers, and designers. Although after a 30-day free trial, you will have to pay for its services, it is worth the money because of its unmatchable quality and visual content. Its contributors add new content daily, which means you'll always have fresh, unique media for your page or site.
Its curated selection is impressive, based on the hit trends, and compiles them in one place, making it easy to access.
Why Choose Shutterstock?
Offers a variety of photos, vectors, illustrations, 3D models, music clips, and videos.
The advanced search engine makes it easy to find the pictures for your project.
It's well-integrated with iOS and Android apps.
It offers multiple pricing plans and discounts to its customers.
It also offers tools like a color palette, image resizer, collage maker, and photo editor to modify the images you like for your website.
Pixabay has a massive archive of stunning stock photos that can help you to design your web pages beautifully. With more than three million photos, you can experiment with several images until you find the one that fits your requirements perfectly.
Why Choose Pixabay?
Its refined search feature filters the content effortlessly.
It gives you access to millions of HD images, videos, vectors, GIFs, music, and sound effects.
Simple and user-friendly interface perfect for everyone from novices to experts.
Its robust search filter allows you to search based on keywords, orientation, size, color, and publishing date. Moreover, if you're still unable to find your desired image, there are sections like Editor's choice, latest category, and trending that can help you find the photo you desire.
iStock is a legendary website that has been providing high-quality stock photographs for more than 25 years. Boasting a gigantic collection of 150 million images, this site offers standard (essentials) and premium (signature) collections to its users based on their chosen pricing plans.
The best part about this website is its easy-to-use interface. It has an innovative search engine that filters the photos through factors like license type, orientation, location, number of people, age, ethnicity, color, image size, and upload date.
Why choose iStock?
It offers a free trial for 30 days, where you can see if the images and features are working according to your expectations.
You will get access to various impressive promo codes and discounts for customers.
It has a search trend feature providing meaningful insights on the latest trends based on region, industry, and over time.
iStock also offers multiple image editing tools to enhance your photos' visual appeal. Moreover, the pricing plans are incredibly affordable, offering you tremendous value at low prices.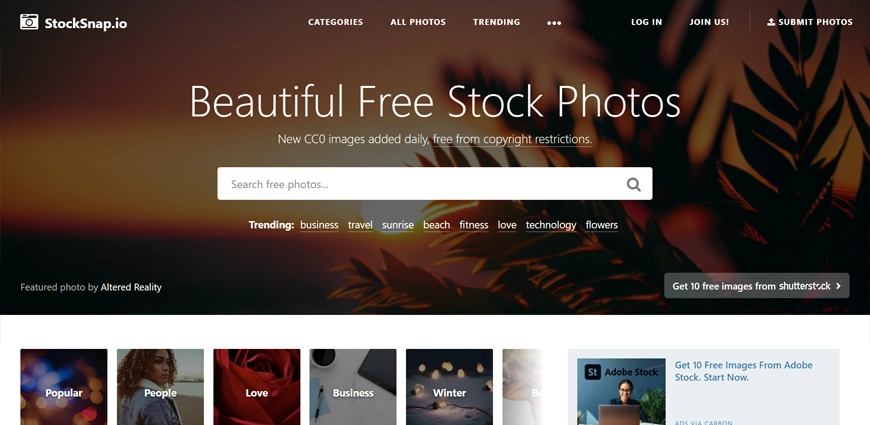 Created in 2015, Stocksnap is a rich source of free, high-quality stock images for WordPress websites. Because of its user-friendliness, affordability, and superior-quality pictures, Stocksnap has become a preferred website for bloggers, web designers, and other professionals.
Why Choose Stocksnaps.io?
It has over 1 million free images, and new ones are being added regularly.
The website is easy to navigate with a simple search feature.
Multiple filters help users find the perfect image for every need.
Moreover, licensed under the Creative Commons CC0 license, all images can be used for free for personal and commercial projects without credits.
Flickr is one of the most popular social media platforms and lets users upload, share, and store their photos, videos, and GIFs. But under the creative commons license, it lets you download and use high-quality stock photos for free.
Why Choose Flickr: Creative Commons?
Since photos are uploaded by millions of Flickr users, it has a variety of stock media files that you can use for any purpose imaginable.
This platform ensures the original creators are credited for their works.
Flickr: Creative Commons offers cost-effective, high-quality images. So any business or individual, no matter how big or small, can use them for their WordPress website without crossing their budgets.
Launched in 2004, Stockvault.net is a popular stock image website where you can get high-quality photographs for your WordPress website without paying a cent of royalty. Moreover, you can find cool graphics and vectors that can improve the user experience of your website.
Why Choose Stockvault.net?
StockVault has a massive collection of over 140,000 quality images.
This website is easy to navigate, with a simple search feature to find the perfect image for any purpose or topic.
Licensed under the Creative Commons license, the images in Stockvault.net are free to use.
StockVault has an active community of bloggers, photographers, and designers who regularly share their work for feedback and support.
These websites account for millions of high-quality images perfect for nearly every topic imaginable. Although some of them come at a price, they might be worth it when you see amazing high-quality images on your page or site, improving the looks and engagement. That can help increase organic traffic quite effortlessly.
So visit these websites to find visually-appealing images with respect to every topic to create and customize the website as per your desires.
WordPress Plugins For Finding & Adding Stock Pictures
WordPress has over 60,000 plugins in its official library, which can help enhance almost every aspect of a website. So it's not unimaginable to expect a plugin to help you find stock images for your website.
You won't be disappointed because several plugins can help you find high-quality stock images, and here are a few of them:
As already mentioned earlier, Unsplash is one of the best websites for finding high-quality stock photos for your WordPress sites and pages. If you are already familiar with Unsplash, the WordPress plugin Instant Images would be of help. With this plugin, you can find and add excellent images for whatever purpose imaginable in just a few clicks.
StockPack WordPress plugin can help you search for over 430 million free and paid, high-quality pictures from reputed sources like Getty Images, Unsplash, iStock, etc. One of its best features is that it lets you compare the images from different providers so you can make the best choice.
With over 600,000 installations, Envato Elements is one of the preferred plugins for finding excellent stock photos and templates for WordPress websites. The added bonus is that more than a million of the pictures available on this plugin are royalty-free, and you can get access to 50 million more pictures and unlimited downloads for just $16.50/month.
This WordPress plugin offers you over 600 million stock photos from credible sources like Openverse and Pixabay. It can help you find high-quality images and add them to the WordPress editor for free. You can download your desired images in varied sizes and filter them by color. Then you can create an SEO-friendly photo by setting the image title tag.
Final Thoughts
Even after you create the page or site through WordPress (the best website development platform), customer engagement may not be good unless you add some visual medium. That's why images are a massive part of any website. They attract more users, spark conversation, and evoke moods and emotions. And sometimes, images can help explain something technical much faster than multiple pages of words.
Now that you know the best websites to find free and paid stock photos, all you need to do is find the right images for the job and add them in such a way that they improve the looks and user experience of a page immensely.
But if you're still confused about the process, hire a professional to do the work properly. Ultimately, you need to remember that you're not just trying to create a website but to build a brand recognized far and wide.