Top 15 Must Have Easy Digital Downloads Extensions for Your WordPress Site
In recent years, the sale of goods through the Internet has undergone fundamental changes. With the reasonable cost of the eCommerce platform, business owners, artists, musicians, etc., have opened their own online stores, and therefore Easy Digital Downloads Development has become necessary.
We also know that WooCommerce is the best and most popular plugin available, if you want to sell the product physically. Still, if you ever want to sell digital files to someone, then the option you should choose is Easy Digital Downloads. WooCommerce's main focus is on the broader side, like selling physical goods and services revolving around them, and that's the reason it left the opening for niche solutions for selling digital downloads. This adaptable and simple-to-use free eCommerce platform focuses on digital downloads, offering a plethora of useful features necessary for running an online store. However, you can extend the platform in many different ways. Let's take a look at 15 must-have Easy Digital Downloads WordPress extensions.
Best Extensions for Easy Digital Downloads
There are so many Easy Digital Downloads Extensions to choose from that it can be difficult to narrow down your options. As a result, in order to save you time and effort, we've compiled a list of some of the best and most interesting EDD extensions.
Most of the EDD Extensions which is available in this collection are specially designed for WordPress companies and developers. Therefore, if you sell products or services such as plugins or web design packages, you can get some kind of inspiration from these extensions on how to improve the way you list, promote and manage your catalog.
And if you have recently built a website, or you want to upgrade your old website for product selling or services respectively, then your search ends here.
We have listed down many types of extensions over here. We have tried to cover every single thing about the extensions so that you don't have to go anywhere else when you are looking for the best Easy Digital Downloads extension. Some extensions which are listed below, incorporate some specific kinds of services. However, you will also find extensions that cover incorporation with other services.
1. Easy Digital Downloads – Social Login
This plugin mostly helps to make the checkout experience faster and reduce cart abandonment rates. While doing checkout, if a store asks to create an account, it will always be annoying, and customers leave the site most of the time. The plugin simplifies the checkout process by allowing customers to log into your website with their social media accounts, even from the checkout page. With the help of EDD – Social Login, users' time will be saved, and sales will increase.
Customers who want to log in via their favorite social networks will find the Easy Digital Downloads checkout procedure even easier with this plugin.
Easy Digital Downloads Social Login enables users to connect to and checkout from Facebook, Twitter, Google, Yahoo, LinkedIn, Living Windows, VK, Amazon, Apple, or PayPal via social networks.
EDD Social Login Features
Registration with a single click
Integrates your store's customer accounts with Facebook, Twitter, Google, Yahoo, LinkedIn, Foursquare, Windows Live, VKontakte (VK.com), Amazon, Apple, and Paypal
It makes account access and payment simple, and straightforward-customers do not need to remember different usernames or passwords
Reduce retail friction – usually, people stay on social networks, meaning they sign in with one click
Enhance safety by using social login and increase trust
Ability to send user email information from the newly created account
Automatically integrated into the payment page
Includes a shortcode [edd social login] to place the social connection buttons on any page and a widget to be used in any widget area
The ability to set a custom URL to redirect the user to, after social media log in
Admin may drag and drop the order of social network buttons
See the number of registrations for each social network
Create a pie chart of the percentage of social media registrations
To facilitate future checkout, link accounts at the "My Account" page and "Order Received."
Social accounts are connected to a user account WordPress so that even if social accounts remain unlinked, they can be accessed
A clean and easy-to-use administration UI to manage all
2. Easy Digital Downloads – Points and Rewards
According to the marketing principle, it is believed that retaining previous customers is tougher than obtaining a brand new one. It is, therefore, necessary for future purchases to keep your customers obsessed with your brand. Therefore, help your customers, who have an acquisition history, to save after support and response.
The addition of Easy Digital Downloads Points and Rewards enables you to reward consumers for shopping for other activities and allows points to settle discounts for future shopping.
You can configure the number of points awarded for the purchase globally, by category, and even by product to give you full control of the reward system. You can also set the number of points awarded by controlling the number of points awarded. Let's understand this by an example: you can set 1 point = 1$, or if you want to, you can set 100 points = 1$; it is all up to you how you want to set the point system.
After the customer gets the points, it's up to them when and how they want to redeem the point for a discount. And if needed, the admin can manually adjust the customer point balance.
EDD Points and Rewards Features
Reward customers for purchases with points that can be redeemed for discounts!
Based on the specified conversion rate, customers can settle points for rebates
You can earn points for the sale of your products based on your conversion rate
You can easily let your customers buy points based on your conversion rate. Just create a product with a product type of "points"; customers can buy it and then redeem the points for a discount
Keep a check on the maximum discount
Include former frequent customers in your system
Reward points are given to customers who subscribe to other activities
Check your customers for information on points and delete points for refunded orders
Reset points from the user list using bulk action for all or specific users
Provide information on points and benefits on a product page beforehand
3. Easy Digital Downloads – PDF Vouchers
PDF Vouchers for Easy Digital Downloads enable you to advertise voucher codes that can later be physically redeemed at the location. This is perfect for shops that desire to sell event tickets, on-site coupon codes, course tickets, etc.
You'll be able to offer your customer the option to provide the recipient's name, email address, and message as a present or purchase these vouchers for themselves. With the PDF voucher extension, you may create limitless coupons for local companies and even online retailers. It is very easy to use, and most importantly, it is very secure and has a powerful admin feature, and the reporting feature of this extension is also one of the best. Because of this, you can easily track your voucher codes without any problem.
Gift certificates, vouchers, and discount codes are nothing revolutionary, but what if you want to sell something that can not be downloaded or shipped? The PDF vouchers extension, which can be printed or redeemed in person, opens the door to any product or service; the Sky's the limit! All the exposure, convenience, and security of online payment and orders are available, and you're nevertheless capable of bodily supply of your products or services in the future.
EDD PDF Vouchers Features
It's simple to set up and utilize
Link your business and online store with customizable PDF coupons
Each download can be customized
Add your logo to the PDF
Customize the redemption instructions in the PDF
Add as many locations as you want to the PDF where the voucher can be redeemed
Allows you to create an unlimited number of unique codes without providing them
Allows importing code via CSV
Allows you to enter voucher codes in a comma-separated list manually
The ability to limit codes to only being used once
Codes can be used an unlimited number of times
Detailed report on all voucher codes purchased and voucher codes used
It's also possible to export a list of all purchased voucher codes as a PDF or CSV file. This comprises all of the customer's information
With the Drag & Drop interface, you may build an endless number of voucher templates
Capability for assigning the product voucher to seller users
Send an email to the seller when the coupons are used up
Supports using vouchers with variable products
Clean and easy-to-use management interface to manage everything
Enter a recipe name and/or message and utilize the receivers' email field to send your voucher as a gift by emailing your customers on your shop frontend, and then customize your vouchers
4. Easy Digital Downloads – Purchase Limit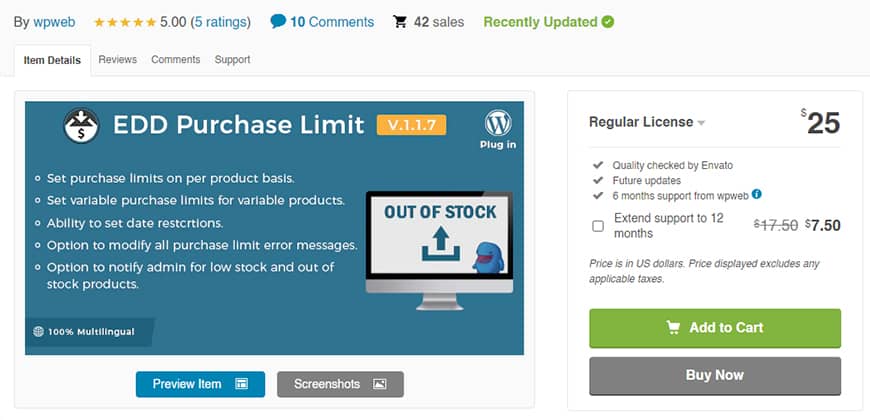 With Easy Digital Downloads – Purchase Limit, you can specify purchase limits per product on a per-product basis. And if you want, you can also limit the dates of purchase Downloads can be purchased by setting a start/finish date.
EDD Purchase Limit Features
There's no rocket science behind installing this plugin; it's very easy to install
If you want to set a purchase limit on a per-product basis, you can do that too
For variable products, set varying purchase limits
Date restrictions: You can limit products by date instead of limiting their numbers and can set a start date and/or end date. This means that you can do things, such as not selling until one date or closing all sales at a certain date, or permitting sales only between 2 days
Custom message format: allows you to customize the purchase button of out-of-stock products, view the remaining number of products, date limit error messages, and also allows you to customize the error message in case someone visits the product's checkout page to indicate that it is not in stock
Notify the manager that there is a shortage of goods
Ability to notify the manager that the warehouse is out of stock
Clean and easy-to-use management interface to manage everything
5. Software Licensing
If you have a website where you are selling a software or a music, or anything else that should be delivered with a valid license, this plugin will be an end to end solution from generating a license to license activation.
This plugin provides a complete license key generation, activation, and checking system. The plugin allows to deliver the license along with the actual digital product that can be used to properly license and activate the buyer's copy of the software. As mentioned this plugin will become a huge asset for you if you are selling any kind of digital products on your website that needs to be validate with license like WordPress plugins, themes, music, or any other kind of software, including video games and desktop applications.
Software Licensing Feature
License key management
Licensing API to handle activation/deactivation and validation
License renewals
License upgrade paths
Add one-click updates to your WordPress plugins and themes
Supports WordPress and non-WordPress Products
Releasing Beta versions
6. Easy Digital Downloads – Frontend Submissions
If you are planning to build a marketplace website with a multi-vendor feature then this plugin would be the best solution because not all vendor users understand the WordPress backend and need an easy interface that can be managed from the front end. Also, this plugin covers all multi-vendor features that the marketplace website should have. In short this allows you to establish a third-party item shop. You may allow anybody to sell digital items through your store after FES is installed.
EDD Frontend Submissions Features
It can moderate the vendors
Moderation of the uploads is also possible
If you add an extension, it can optionally track a submission also
You can allow the vendor to see all the orders
If the vendor wants to create/ edit or delete orders, he can do that easily
Allows the vendor to access their own product dashboard
7. Mailchimp
If you have a blogging or digital service-selling website, you should be aware of the importance of newsletter. A list of email subscribers will be a more valuable asset. You can automatically subscribe customers to a specific list based on the product they bought or are trying to buy. Or the customer can subscribe to your newsletter themselves and enroll them-self into the list.
Mailchimp is a most popular marketing automation platform that helps to make it possible. Using Mailchimp you can bring your audience data, marketing channels, and insights together.
This is the plugin you can use for your EDD website and with detailed eCommerce reporting, you can observe which goods lead to more subscribers and which Mailchimp promotions lead to more purchases.
Mailchimp Features
You can have a detailed report on eCommerce
It can also segment your list in multiple ways
Pair Mailchimp to expand your email list with free downloads
You have all the power to control your subscription procedure
After purchase, you can send receipts with the help of Mailchimp
8. Easy Digital Downloads – Currency Converter
The Easy Digital Downloads Currency Converter Extension permits your clients to convert product prices into their chosen currency easily.
Currency Converter uses Open Exchange Targets to convert your product prices to your preferred currency! It includes detection of currency and reactive design. The orders remain completed with the base currency set in the settings of Easy Digital Downloads, and the converted prices are just for customer reference.
EDD Currency Converter Features
Automatically detect the currency of your customers based on the location so that your customers can look at your products as much as they want to
Responsive design, so all screen sizes and devices are going to work for this plugin
Shortcode for displaying the customer's saved currency in the menu label
Choose to substitute the base currency prices for converted prices or show it in brackets next to the base currency price (when you select a currency that isn't the basic currency)
Choose whether to add a currency code to the product price
Supports all locations
Clean and easy-to-use management interface to manage everything
9. PDF Invoices
Purpose can be different, but everyone needs an invoice for whatever they are purchasing. Whether you are selling digital, physical products or any kind of services, everything should be centralized with invoicing, which helps you improve your reports as well. This plugin easily generates invoices for the purchases. In addition, some customers want a copy of their purchase or a receipt, so it is possible with the help of this plugin. Once you activate this plugin, it will start generating invoices, and it will be available to customers and the admin with additional configuration.
Also, if you want to do your company's branding by adding your mobile no and your company's and customize your invoice, you can do that too by changing the PDF invoice setting.
This add-on is worth investing in when you interact with clients with special invoicing requirements for accounting purposes. Including 12 templates, each may be readily modified in the PDF Invoices package.
10. Easy Digital Downloads – Download Image Watermark
If you have a website where you are selling images and want to put extra security by adding a watermark on images, this plugin helps you to make this possible. Also, suppose you have a photography portfolio site, and you want to add your signature as a watermark. In that case, this is the best alternative to make this process automated instead of doing it manually. These image watermarks can be anything: an image copyright symbol or your company logo or a piece of branding text as a transparent PNG image. You can have different watermarks.
After the customer gets the points, it's up to them when and how they want to redeem the point for a discount. And if needed, the admin can manually adjust the customer point balance.
Full Image
Large Image
Medium Image
Post-thumbnail Image
Thumbnail Image
EDD Download Image Watermark Features
Add watermarks for downloading images to a download page automatically
You can also use watermarks to download images that have been uploaded
You can position the watermark easily on the nine sides. You can place it in the center, center left, center right, top-left, center top, top-right, lower left, center-bottom & lower right
The same watermark can be used multiple times on a single image
It can be used multiple times with the same watermark on a single image
If your image is of custom size, don't worry; you can still add a watermark to that type of image
The management panel with a clean user interface is very friendly and easy to manage
11. Recurring Payments
If you have a website focused on memberships and subscriptions, this is the plugin that you can use to get recurring payments. The plugin has all the features that a membership website should have. With recurring revenue, the revenue you generate becomes predictable, and therefore, that enables you to improve your business predictions and key choices.
Billing is automatic so that you don't have to ask for a renewal fee or submit invoices every month or year. And because of automatic billing, the chances of late or missing payment also decrease. Chances of fraud also decrease. Customer retention often increases because they don't have to make a new buying decision, or they don't have time to enter all the payment information they have entered at once.
Recurring Payment Features
Recurring Flexible Payments
Emails of the client
Subscriptions Multiple
Trials Free
Fees for registration
Management of Subscription
Reports on renewal income
Download file limit
Codes for discount
Software integration of the customer dashboard
Integration of all access
Integration of content restriction
Integration of custom prices
12. Paypal Pro & PayPal Express
In the world of online transaction platforms, we all know that PayPal is a perfect online platform for business organizations. You may take payment via PayPal Payments Pro or via PayPal Express Checkout using this two-in-one gateway add-on. When you buy a download with the help of PayPal Pro tools, you submit your credit card data and never leave your website. This gives the user a better experience and more effective conversions. The user experience is identical to the PayPal standard when checking out with PayPal Express, except that it is safer. You may also check out through the In-Context Checkout.
Overall, what I would say is if you are looking to add professionalism to your site adding PayPal Payment Pro or PayPal Express is the best choice for you. The features that are available in them for sure improve the check-out feature, but I would like to mention this thing that switching to PayPal Pro from PayPal has its own consequences. Therefore before upgrading, make sure you know about all the consequences and still you choose to do that.
PayPal Pro and Express Features
Promotes repeated payments
In-Context Checkout support
Paypal Pro is only accessible in the USA, the United Kingdom, Australia, and Canada but is available in other countries via Paypal Express
Paypal Pro needs SSL, but not Paypal Express. SSL is necessary
13. Easy Digital Downloads – CCBill Payment Gateway
CCBill is one of the leaders in the high-risk processing of credit cards. It has developed a brand that consumers can rely on every year while transactions are processed in millions. This plugin adds CCBill to your website with Easy Digital Downloads. CCBill Payment Gateway is the quick, easy and instant way to pay online and on mobile. As an expert in online payments, you can trust CCBill to securely handle your transactions from any location in the world.
14. Easy Digital Downloads – PayU India Payment Gateway
If you have an India-based business, then this is a comprehensive payment gateway option that you can use. Easy Digital Downloads PayU India is a gateway plugin to take payments via PayU. This Plugin exclusively supports the INR currency. PayU works with credit and debit cards of Visa and Mastercard. This means you can simply receive credit card payments and direct payments from any of the relevant banks.
Once the order passes, the user is sent to PayU for safe payment. On your website, you need no SSL certificate. The order is confirmed after payment and the user will be routed to your thankyou page. The plugin has functions such as physical products, on-site check-out, credit card processing, digital products, balancing of e-wallets, and mature content.
15. Easy Digital Downloads – PayU Romania Payment Gateway
You can use this comprehensive payment gateway option if your business is based in Romania. If you want to take payment via PayU, you should consider installing this gateway plugin that works with credit and debit cards from Visa and Mastercard. That means that both credit card and direct payments can be made easily through any of the banks involved.
The user shall be sent to PayU for secure payment when the order is executed. On your site, you do not need an SSL certificate. The order is confirmed after payment, and the user is brought to the thank you page.
Improve your Website Performance with These EDD Extensions
So here is the a list of some of the very best EDD extensions that address most of your Digital Store's requirements. There are, of course, many more plugins to select from, but these plugins are what developers prefer nowadays. And if you love multiple extensions from this list and want to install them for your site, check out Ultimate Bundle – Easy Digital Downloads and download ten extensions that are there in the bundle at a very low cost. You can also check the detailed differences between WooCommerce and Easy Digital Downloads.